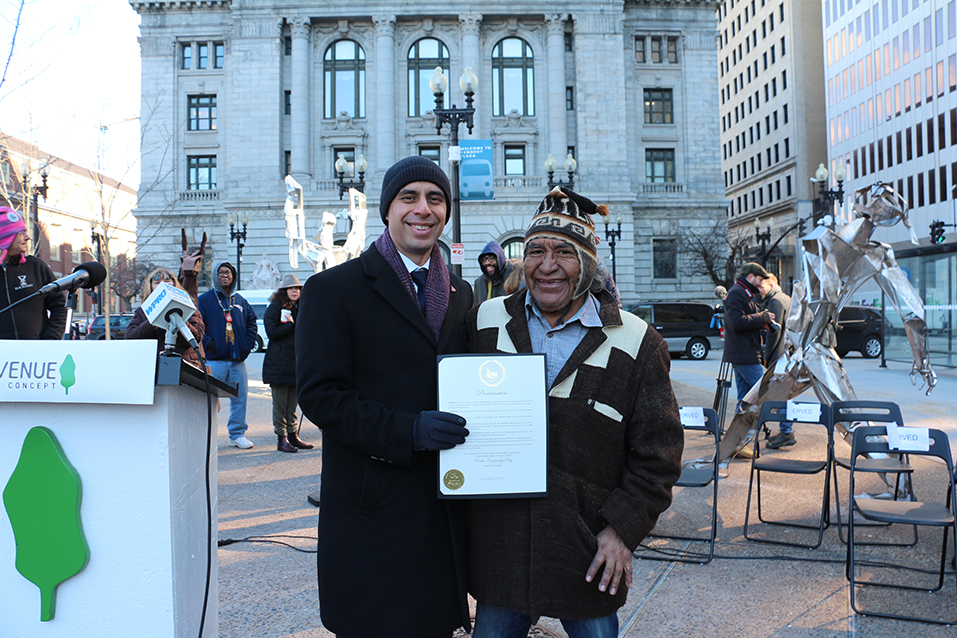 On February 5, 2018, The Department of Art, Culture + Tourism joined Mayor Jorge Elorza, The Avenue Concept, and RIPTA officials to celebrate a series of new temporary public sculptures installed on Kennedy Plaza by Peruko Ccopacatty. The four metal sculptures, on view through June 2018, are the first significant original public art works to be installed in the Plaza since the Soldiers and Sailors Monument in 1871 (the adjacent "Hiker" was a replica). A full series of figures created by Ccopacatty had originally been created 20 years ago for the plaza, but were never installed. The new installation features a 14' angel fashioned from reused car bumpers, a 7' man built from reclaimed stainless steel, and two 6' llamas sculpted from scrap metal.
With a career stretching back more than 50 years, Peruko Ccopacatty is an internationally-renowned artist who received the United Nations Society of Writers and Artists Award of Excellence in 2003 for a life's work of social relevance. His studio is located in West Kingston, RI and he has exhibited throughout the world. According to The Avenue Concept: "This is a project we've been looking forward to for a long time – though not as long as Ccopacatty, who first received approval to install his sculptures in Kennedy Plaza in 1995. Of course, that project never came to be, and that missed opportunity was one of the reasons why we became so invested in helping him achieve it. This project represents both the culmination of a major investment we've made in Kennedy Plaza as a showcase for public art and the first look at a longer-term vision we have for a robust public art program in Providence."
Originally from an Andean village on the banks of Lake Titicaca, Ccopacatty is revered back home as an international ambassador for Aymara culture and created a nonprofit library/cultural center to document and preserve its art and traditions.